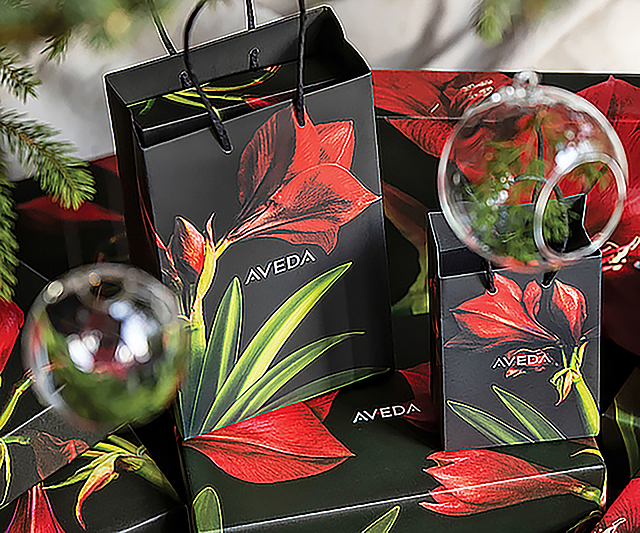 Sometimes, we just don't have the time/energy to put a lot of thought into every single gift we're purchasing this year. The solution to this: gift sets. This year, do your shopping with us at Indira Salon Spa in Chicago—we're making things easy on you with amazing gift sets from both Aveda and Eufora. Wrapped and ready for pick up, these gifts sets are perfect for anyone, both female and male, and cover every grooming goal you can think of—from hydration to shine to shaving. Both brands focus on environmental responsibility and use natural, certified organic ingredients (see, meaningful!) The best part? When you purchase a gift set from us, you'll receive a $20 gift*.
A few gift sets we love:
AVEDA
Cherry Almond Softening & Detangling Set – $44
Includes: Cherry Almond Shampoo, Cherry Almond Conditioner, Cherry Almond Hand Relief (travel size), detangling comb.
Perfect for: people with long/thick hair, those who love the Aveda Cherry Almond aroma, someone who deals with tangles, matting and hair-to-brush hair.
Be Curly Gift Set – $66 .
Includes: Be Curly Shampoo, Be Curly Conditioner, Be Curly Curl Enhancer, Be Curly Style-Prep Travel
Perfect for: those who want to enhance, define and add shine to their natural curls.


Go Gorgeous Gift Set by Eufora
EUFORA
Go Gorgeous Gift Set – $46.50
Includes: Fresh Effect (dry shampoo), Full Effect (dry texturizing spray), Elevate (finishing spray), Beautifying Elixir (leave-in repair treatment), Gloss Shine Spray
Perfect for: someone who travels a lot, those who love products that create texture, shine and hold.
Stellar Shave Gift Set – $59
Includes: Classic Shave (pH balanced shave cream), shave brush, post shave
Perfect for: a very lucky guy who loves a good clean shave.
We have tons more! Make your holiday shopping easier, come pick up a gift set and receive your $20 gift*.
*$20 gift can be redeemed on a first time service valued at $60 or more between 1/3/20 and 2/29/20 when you purchase a holiday gift set. Not valid with any other offers or discounts. Offer ends 12/24/19.
Book your holiday appointment before our books fill up! Book online.