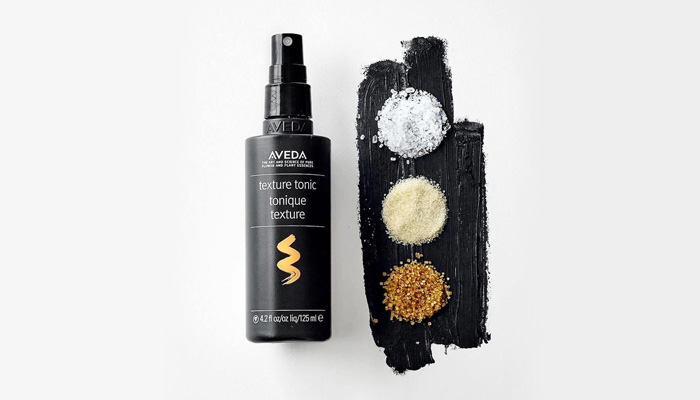 Beauty goals and convenience don't always go hand-in-hand, but there are times when getting your hair just right can happen in one step. We've put together our must-haves for those times when you've got to elevate your look and you've got to do it NOW.
TEXTURE TONIC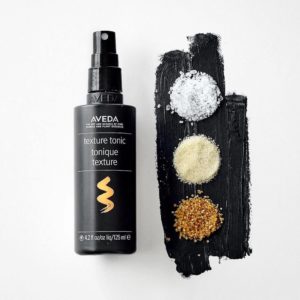 Source: Aveda
Hair gods, hear our prayer: please don't EVER let beach waves go out of style. Messy, lived-in waves have that cool-girl chic vibe and don't require a lot of maintenance: indeed, this style's perfection lies in its imperfection. But actually achieving that carefully undone texture can be tricky. Too little, and the style falls flat; too much, and you've got the fork-in-a-light-socket effect.
Enter Aveda's Texture Tonic. Its one goal: to make that effortless style, well, effortless. And boy it does live up to its promise. Like most salt sprays, this one is also made with salt—which helps contract and compress hair, instantly creating piecey, defined texture. But unlike most salt sprays, Texture Tonic also contains organic cane sugar, a natural humectant that leaves hair touchable and infused with natural shine. That means your tousled beach waves are soft (no crunch) and won't dry out. Bonus: certified organic ginger, ylang ylang and clary sage envelops your enviable mane in a sweet floral and spicy citrus aroma.
HAIR PURE-FUME MISTS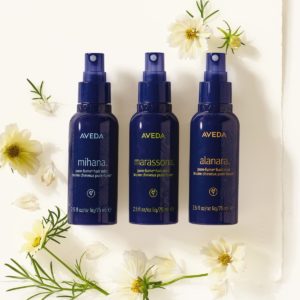 Source: Aveda
Whether you're stretching the life of your last shampoo or just love great-smelling hair (and hey—who doesn't?) Aveda's Hair Pure-Fume Mists add that extra something to take your hair from lackluster to next-level. Their three distinct scents are quick-drying, last all day and infuse an extra softness and shine to your hair.
The three aromas (Alanara, Marassona and Minhana) are inspired by distant lands from around the world, from the Fertile Crescent in the Middle East to the Brazilian coastline. They're made with certified-organic ingredients like sunflower and kukui seed oils, which don't just make your hair smell amazing—they actually relieve stress and induce relaxation, too.
SHAMPURE DRY SHAMPOO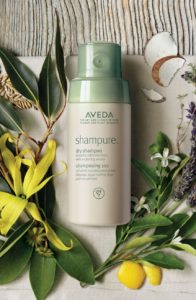 Source: Aveda
Whether you've hit the snooze button too many times, have mere minutes to spare between gym and work, or simply want to make that blowout last just one more day—there are times when a shampoo is not an option. Enter Aveda's Shampure Dry Shampoo, which absorbs excess oil and adds a bit of texture to bring life to dull locks. The non-aerosol powder mist is made with certified-organic lavender, petitgrain, ylang ylang and more, to impart a fresh, clean feeling that gives hair a quick and noticeable pick-me-up. Not only does it leave locks with killer volume, but Aveda's signature Shampure scent is the cherry on top.
SHAMPURE THERMAL DRY CONDITIONER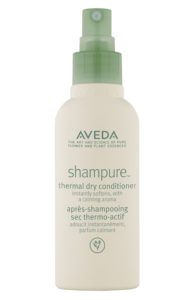 Source: Aveda
Aveda's second solution for non-shampoo days goes hand-in-hand (hair-in-hair?) with the above. Spritz some Thermal Dry Conditioner onto tired, frazzled locks to weightlessly condition, detangle and soften. This fine mist doubles as a heat protectant, and is an ideal precursor to touching-up dry hair with a curling wand or flat iron. (And lest we forget: that iconic Shampure aroma is always a crowd-pleaser.) A blast of Dry Shampoo at the roots and Thermal Dry Conditioner at the ends and you're good to go, no shower required.
Don't take our word for it — stop by Indira Salon Spa to give these products a test drive. Once you've experienced a true one-minute style upgrade, you won't be able to remember how you managed before.
Comments
comments